Events
Events Calendar
Quebec and Canada: models (and experiments) in the governance of diversity and identity
Wednesday 04 March 2015, 07:00pm - 09:00pm

Pierre Bosset, professor of public law at the University of Quebec in Montreal, was in Valencia on 4 March to deliver a lecture on the Quebec and Canadian models of diversity governance. Since the adoption of multiculturalism as official policy in 1971, Canadian authorities have led the way in the reconciliation of cultural pluralism with the promotion of social cohesion and justice.
Professor Bosset was a key legal adviser for the report of the Taylor-Bouchard Commission, created in 2007 by the Quebec government in order to examine the challenges of cultural and religious accommodations. Among other publications, he has written the book La discrimination indirecte dans le domaine de l'emploi: aspects juridiques [Indirect discrimination in employment. Legal aspects] (Éditions Y. Blais, 1989).
For pictures of the seminar, click here.
For the full-lenght video (in English), click here.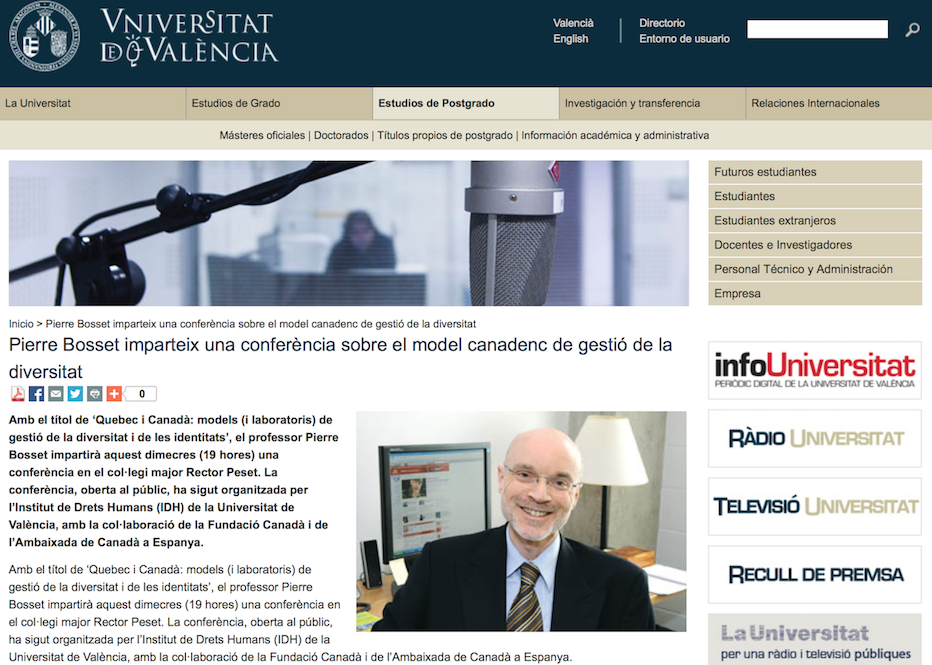 Location
Rector Peset residence hall, University of Valencia